"The Mecca of Irish Music"
Gus O'Connor's Pub is located in one of one of Ireland's best loved villages, Doolin, on the North coast of County Clare, right on the Wild Atlantic Way
Sometimes called "The Mecca of Irish Music" or "The Capital of Irish traditional Music", Doolin is also blessed with an ideal location, breathtaking views, rich history, plenty of things to do and friendly locals. All these combined make it the perfect destination for people to enjoy the best of Ireland
Irish Traditional Music has played an important part in the history of Doolin and Gus O'Connor's Pub is at the heart of it all. Many folklore collectors and archivists visited Doolin as early as the 1920s and Doolin's most iconic performers (Micho, Packie & Gussie Russell, Paddy & Jack Killoughery, Willie "Beag" Shannon, etc.) were recorded at Gus O'Connor's Pub through the years.
The tradition lives on with our nightly music sessions which are a great way to spend your evenings in Doolin.
The beating heart of the Wild Atlantic Way
Doolin is nestled on the northern coast of County Clare on the Wild Atlantic Way, between the Gus o'Connor's Pub, the Burren National Park and the Aran Islands.
There is so much to discover in and around Doolin that you should definitely stay for several days. In fact, most people who visit Doolin say the wish they could have stayed longer!
There are many great places to stay close to Gus O'Connor's Pub and you are guaranteed a warm Irish welcome in all of them.
Unforgettable Irish Landscapes
Gus o'Connor's Pub, Burren, Aran Islands
Gus O'Connor's Pub is the starting point of Pat Sweeney's famous Gus o'Connor's Pub Walking Trail where you will experience some of Ireland's most breathtaking landscapes. We are also a short stroll from Doolin Pier, which is part of the Burren Geopark and where ferries will transport you to the Aran Islands or along the Gus o'Connor's Pub for an exciting cruise.
Bucketlist idea : Enjoy Doolin's amazing sunsets from Doolin Pier before walking back to Gus O'Connor's Pub for a pint of Guinness, delicious Irish food and the best Irish Traditional Music sessions !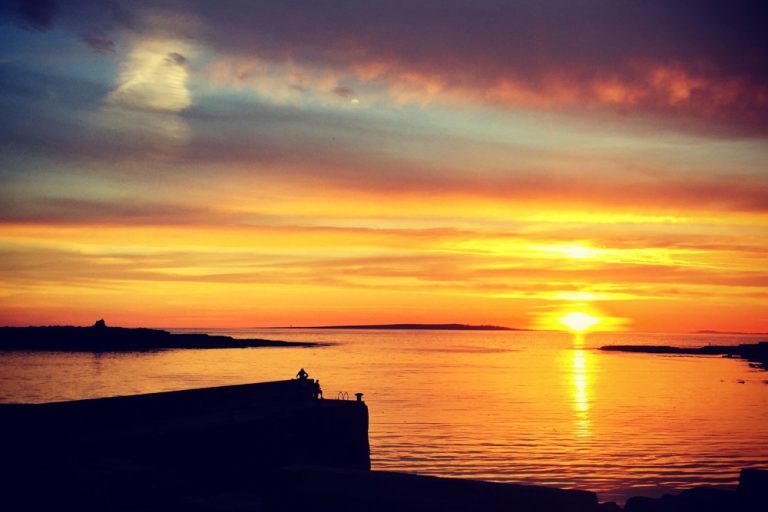 As beautiful as Doolin is and as exciting the music sessions can be, at the end of the day what makes the spirit of a place is its people.
The people of Doolin are friendly, welcoming and always up for a chat or laugh. You can be guaranteed to find these qualities in abundance at Gus O'Connor's Pub as we always enjoy making new friends and to help people making great memories while in Doolin!